2806 day ago
There are some who create and even sell imitations of the Original Copter toys and they also even openly claim that they are the original creators of the Whistle copter of Original Copter. Additionally, these people who create all the Original Copter imitations and copies also claim that their imitation toys are created from durable and high-quality material; plus, they also state that their imitation Whistle Original Copter can fly high at 250 feet just like our original Whistle copter.
However, this isn't the case; these copies can only reach and fly at 150 feet or even lower which is a huge difference compared to the original Whistle copter toys that we make.
Our Original Copter toys can't be copied or replicated by cheap duplicates since the original toys are created from strong, durable, and high-quality materials, making the Original Copter toys last longer compared to others. Moreover, only our original Whistle copter can reach up to a height of 250 feet since these are made from lasting, high-quality and durable plastic.
Now, the Whistle copter has a PATENT and only those who have acquired the PATENT for the Whistle copter has the right to sell them. Whistlecopter is infringing on our Patent . The Original Copterholds the PATENT for these specific toys since they are the original creators and sellers of the Whistle copter, Cobra Launcher, and every other copter that has a whistle on it.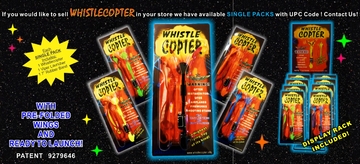 The wings of the Original Copter toys are highly special and stronger compared to every other micro-flying copy of these copters; the wings of the Original Copter toys are all made from very hard and durable plastic that will last longer and will never break.  When the wings are folded and correctly positioned, they will stay and hold their crease in place without flapping in the wind like the imitation toys do; without sturdy and durable wings that are created from high-quality plastic, your copter's ride will not last long and will not achieve the 200 feet height that the Original Copter toy can reach. Even if they claim to do so, the fake toys will never reach and hover at its highest point before it descends back to the ground.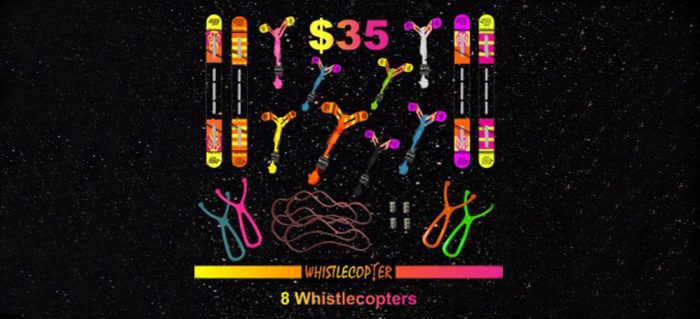 As for the original Original Copter LED lights, it is considered among the brightest ones which make them look like fireworks when flying high in the sky, making it a really beautiful scene at night. These LED lights are very bright since the real Original Copter toys never use used or old batteries like a lot of the imitation toys do. And now that the Original Copter has gained the PATENT for every Whistle copter, all the rest of the imitation toys can no longer be sold to anyone without the authorization from  Original Copter toys' original makers.