2691 day ago
Letting kids play outdoors has a lot of fun benefits such as having them run around to explore their surroundings, letting them have a breath of fresh air, plus allowing them to unwind and relax which is something everyone needs. Aside from the fun reasons, there are also a lot of great health benefits which make playing outdoors perfect for kids.
One way to support your kids to have fun outdoors is by letting them play with their Original Copter toys since playing with these provides a lot of good benefits as well. Listed below are some of the benefits of playing with the Original Copter toys.
• It Betters One's Vision
Based on studies and research, it is said that kids who spend their time playing outside have better distance vision compared to those who usually play indoors. Playing with the Whistle copter (which now has a PATENT), can help greatly when it comes to enhancing an individual's distance vision since the toy can be launched at a height of 250 feet and your kids would need to focus on this to be able to catch the Whistle copter before it reaches the ground.
• Development of Social Skills
Playing with a lot of kids outdoors will surely encourage their social development since play provides them with tons of opportunities to learn how to work with a group, to share with others, the process of negotiating and also dealing with problems or conflicts.
Kids who are allowed to explore and learn through playing can learn a variety of new skills while overcoming challenges that develops self-confidence, self-advocacy, and resiliency – all which can help kids learn and develop healthy friendships, connections, as well as to become leaders in the future.
Invite a couple of your children's close friends and let them play out in the sun with the Original Copter toys together; it won't only boost the children's social development, but will also do so for their friends as well.
• Stress Reduction
It was once stated that spending time outside to play is a great outlet for stress; it's considered as some form of relaxation and healing for everyone. Also, they have learned based on studies, that seeing green surroundings can help lessen the stress levels of kids, so you might as well bring your little ones out to the park where they can have fun playing with their Original Copter toys to destress while also enjoying a different environment.
Letting your kids play out in the open is vital and essential for their growth, as well as their mental and physical development which is why allowing them to spend lots of time out to explore the natural surroundings is a great activity.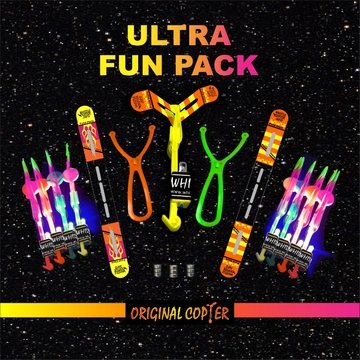 Each one of them can immerse in the natural beauty around them by climbing trees, running through the lush green gardens, or just have fun and let loose by playing on the ground or mud without worrying too much! Allow them to have fun in a natural setting, and by playing with the Original Copter toys outdoors, the creative side of these kids may well be enhanced too since they can come up with more game ideas for play with these toys.