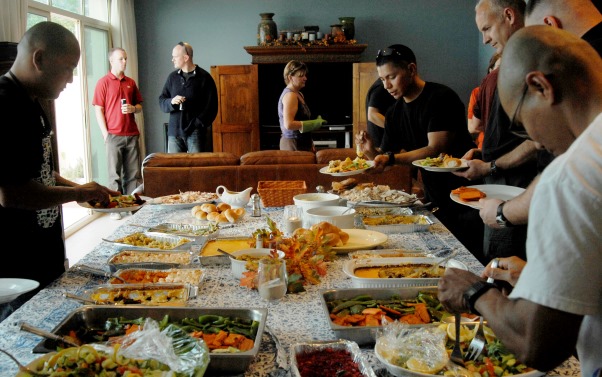 2208 day ago
People are very busy now, getting time off from work or school to visit relatives for the holidays can be difficult; this often results in being unable to celebrate certain occasions such as Thanksgiving. While there are numerous individuals who are too busy to take the time off, other families do not have enough funds to afford a fancy turkey dinner. However, you can still find alternative ways to celebrate Thanksgiving with your loved ones despite this. You can make the day more memorable by starting your own Thanksgiving tradition with the family instead of being unhappy about the things you can't do or have during the celebration.
Here are several fun ways to celebrate Thanksgiving Day:
Prepare Your Own Feast
Because of tradition, turkey has become a staple during Thanksgiving even though it does not really have to be part of the menu. Since turkey can be quite expensive, check out some recipes of non-turkey dishes you can cook for Thanksgiving and prepare some of these meals that the entire family will enjoy. Some of these include Maple Dijon Chicken, Lamb Meatloaf Baked Mini Pumpkins, Maple-Braised Pork Belly, grilled salmon, and a lot more.
Have a Potluck Party
If you plan to host a Thanksgiving party, it can be quite expensive and time-consuming to prepare all the necessary dishes while choosing and decorating the venue. Instead, you can have a Thanksgiving Potluck Party where you will prepare a certain dish while your other invited guests can also bring their own dishes to share with everyone.
Gathering around a feast that everyone has pitched into is a great way to celebrate Thanksgiving. This way, you can save more time and money while everyone gets the chance to enjoy different types of dishes that will surely be appreciated by all your guest's.
Volunteer for Thanksgiving
We all know that a lot of less fortunate people have no chance to celebrate Thanksgiving. With hundreds of volunteer opportunities in the country, you can help celebrate this special holiday by joining other volunteers preparing and serving food. You can also deliver food baskets to seniors or clean up a historic sites. You can make things more fun by inviting your family members, friends, and neighbours to join you.
Go on a Hike with the Family

If you can't afford to visit your other relatives living in different cities or states for Thanksgiving, you can celebrate the occasion by taking a hike with the family. You can also invite friends to tag along. Not only will you get to celebrate, but you will also get the chance to spend quality time with your loved ones. You just need to search for some of the best hiking trails that are available in your area.
Communicate with Friends and Relatives

With today's advanced technology, we can still keep in touch with our loved ones who live in areas that are far from us. If you cannot be with your other relatives for this year's Thanksgiving celebration, you can take advantage of various telecommunications applications to celebrate with them virtually. Celebrating Thanksgiving despite the distance can also be a fun way to enjoy the holiday with your family and friends.

Run for a Cause

Although most people would not be concerned about exercise on Thanksgiving Day, a lot of cities and towns host annual Turkey Day races to raise money for charities. This is another great way to celebrate Thanksgiving; especially if you've eaten a lot during the celebration. Plus, you also get the chance to help others. You can browse online to check out schedules of Turkey trots and Thanksgiving races in different states and cities.
Spend a Simple yet Fun Quality Time with the Family

Everyone seems to have very busy schedules, and because of this, mealtime with the whole family can be rare which results in less quality time spent together. This Thanksgiving, you can celebrate the holiday with a simple dinner before going out to play, enjoy, and have fun. With Whistlecopter's coolest toys such as the Whistlecopter and the Their incredible Lazer Bubble Blasters Or their newest LED Balloon, you and your family will definitely have hours of fun playtime.
Their Whistle Copter has a Patent and Trademark and whistles on the way up then flies just like their regular Originalcopter but goes a little higher upon launch.  Check their Professional Wing Folding Video !! On their home page Whistlecopter.info to attain highest flights. Whistlecopter emits extremely bright LED lights and comes with a 7-inch red rubber band and their exclusive Viper Launcher so it can fly as high as 200 feet. Additionally, the wings of the Whistlecopter are all differently designed to give everyone a brand-new experience when launching these toys. What makes this toy one of the best in the market is that it is made from durable and non-toxic materials, which is why you won't have to worry about any danger when playing with these toys.
On the other hand, you can also spend quality time with the family by using their Lazer Bubble Blaster This bubble gun is the coolest and brightest. The bright 4 LEDs inside light up as you pull of the trigger to flash colours as you shoot bubbles. One led is in the mouth of gun so bubbles come out blue.
If you plan to host a party for Thanksgiving, why not make things more colourful with Whistlecopter's LED Balloon. This brand-new product can be used anywhere since it features a LED line that measures 9 feet long; you can choose to place this along walkways or anywhere outside your house to make your party enchanting. What makes this new product great is that it is made from durable latex which is why it can also be reused for other occasions in the future.