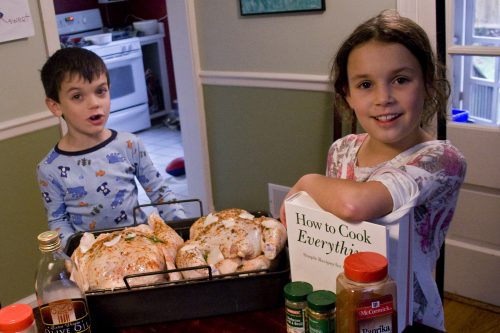 2062 day ago
Cooking requires the use of all senses which is why engaging in this activity with your toddlers is also an opportunity for them to learn how to process sensory input or information which is essential for one's brain development. And although messy, cooking with your toddler is fun and if you do all the necessary preparations, cooking with them will be stress-free and enjoyable.
Here are some tips for you before you begin cooking with your little ones:
Schedule your cooking time when your children are not overly exhausted.

Set cooking time first thing in the morning, or after nap time in the afternoon.
Prepare and pre-measure all of the necessary ingredients before starting; this will help keep your cooking time short which is basically perfect for a toddler's attention span.
Make sure to include mixing and stirring in your toddler's tasks since children love doing these things. Other tasks you may give your toddlers include adding and measuring ingredients, or they can also sprinkle nuts or chocolate chips in the batter.
Of course, the mess will always be the result of cooking with your toddlers but this is part of the fun experience. Fortunately, you can ask them to help when it's time to clean up.
Now that you have a few quick and easy tips for cooking, here are some easy treats that you can prepare with your toddlers:
Maple Almond Granola Mix
Since you can never guess what your toddlers want for breakfast, consider preparing a maple almond granola mix. You may serve this with either yogurt or milk, or just take it with you for a tasty snack when on the go.
Sweet French Toast
Your little ones would surely enjoy helping you prepare this French toast recipe; let them crack and beat the eggs, you can cut the bread into fun shapes, and dip these in wet ingredients before you pan fry these to perfection! Top the French toast with powdered sugar and fruit of your choice – you may add strawberries, bananas, and even raspberries to make this a healthier treat.
Frosted Cupcakes
Cupcakes are one of the easiest things to bake and children love these too! So why not make simple cupcakes that the toddlers can decorate with icing and colorful sprinkles once you are done baking them?
Muffins with Ham, Cheese, and Spinach
With simple ingredients and easy steps to follow, your toddlers will have no problems when they prepare this tasty muffin recipe. Aside from that, they will also gain a lot of vitamins such as vitamin A, potassium, folate, magnesium, manganese, iron, B vitamins, protein, zinc, and choline since spinach has all of these essential vitamins and minerals.
Easy-Bake Bread
Baking bread is enjoyable when doing it with toddlers; however, you will have to follow a simple recipe so you can ensure that it will rise and taste good. Choose bread recipes that do not contain yeast to make it easier to bake.
Skewered Fruit and Pancake
Children enjoy eating food on sticks, and you can do this with pancakes too! When you prepare this, assign your toddlers tasks such as stirring the pancake batter while you cook these; also do the cutting since it could be dangerous for your little ones. For your older children, they can stack the pancakes on the skewer together with the assorted fruit.
Mini Pizza Pockets
Everyone loves pizza, so why not make it with a twist by turning these into small pizza pockets. The toddlers can easily make these in minutes; plus, they will enjoy sealing the dough's corners with a fork or with their fingers.
Black Bean Quesadillas and Corn Salsa
Quesadillas are fun to eat and if you're finding ways to make your children eat vegetables, this is one great way to do it. This will be easy for you and your toddlers to prepare and they will definitely enjoy the treat with a good spoonful of corn salsa.
Mini Turkey Burgers
Reinvent classic burgers by making it healthier – use turkey instead of beef! Turkey meat is leaner, plus it is a good source of protein and is also rich in vitamins and minerals.
Now that you have a list of meals and treats to make with your toddlers, you can start having fun while cooking together in the kitchen! Then after enjoying your meals, why not spend more time together and head out to play with Whistlecopter's Alien Rocket Copter and the LED Copter to see the amazing lights that flash up in the sky when you launch these. This is the best moment to enjoy some quality time with the family, and as Tina Fey said, "The ideal situation for every parent is something that no one has, and this is having a fulfilling job that lets you work three days a week. It's better for the parents because they can get to spend quality time with the little ones and also have a source of pride and achievement in every way possible." So make the most out of the time you spend with your children and create more fun memories together with Whistlecopter's Alien Rocket Copter and the LED Copter to make things even more memorable and heartwarming.