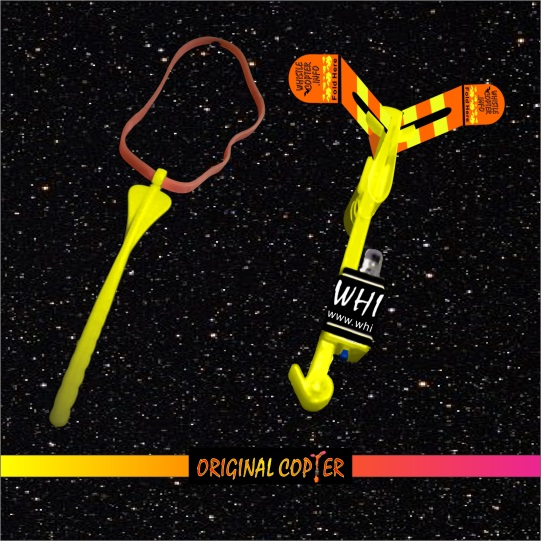 12 day ago
At Whistle Copter Toy Store, we take playtime to new heights with our captivating LED copter toys. With their mesmerizing lights and unique features, these toys have become a favorite among children and adults alike. The distinctive feature that sets our LED copter toys apart is the enchanting whistling sound they make on the way up, adding an extra touch of excitement to every launch.
Whistling on the Way Up: One of the most delightful aspects of our LED copter toys is the melodic whistling sound they emit as they ascend into the sky. This distinctive feature not only adds an element of surprise but also serves as a captivating auditory cue for both kids and parents. As the toy soars higher and higher, the sound creates a sense of wonder, making each launch a memorable experience.
A Dazzling Visual Display: The LED lights on our copters are a sight to behold. These vibrant lights are embedded into the toy's design, creating a stunning visual display that's especially mesmerizing in low-light conditions. Imagine watching a cascade of colorful lights as the copter dances through the air, leaving a trail of brilliance behind. Whether it's a dusk playtime session or a clear evening, the LED lights add an extra dimension of enchantment to the experience.
Safe and Sturdy Design: Our LED copter toys are designed with safety as a top priority. Made from durable materials, they can withstand the rigors of outdoor play. The lightweight yet sturdy construction ensures that they can handle repeated launches and landings. Additionally, the copters' blades are designed to fold in, minimizing the risk of accidents during play. You can enjoy peace of mind while your kids have a blast with these captivating toys.
Active Outdoor Play: In a world where screens dominate kids' attention, our LED copter toys encourage active outdoor play. Launching these toys into the sky engages kids in physical activity while sparking their imagination. Whether they're playing with friends, competing to see whose copter flies the highest, or simply enjoying a solo adventure, these toys provide a healthy and enjoyable outlet for energy and creativity.
Fun for All Ages: LED copter toys aren't just for kids – they're enjoyed by individuals of all ages. Adults can join in the fun, reliving the thrill of launching a copter high into the sky and watching the dazzling light show unfold. It's an activity that brings generations together, creating moments of joy and connection that everyone can cherish.
The Perfect Gift: Looking for a unique gift that will stand out? Our LED copter toys make for an exceptional choice. Whether it's a birthday, a holiday, or just a surprise gesture, these toys are sure to captivate and delight the recipient. With their whistling ascent and captivating LED lights, they're a gift that brings smiles and excitement to any occasion.
Conclusion: At Whistle Copter Toy Store, we're proud to offer LED copter toys that combine the thrill of flight with the enchantment of colorful lights and the melodic sound of whistling. These toys are more than just playthings; they're gateways to imagination, outdoor fun, and shared experiences. Whether you're young or young at heart, our LED copter toys are here to make playtime a soaring adventure