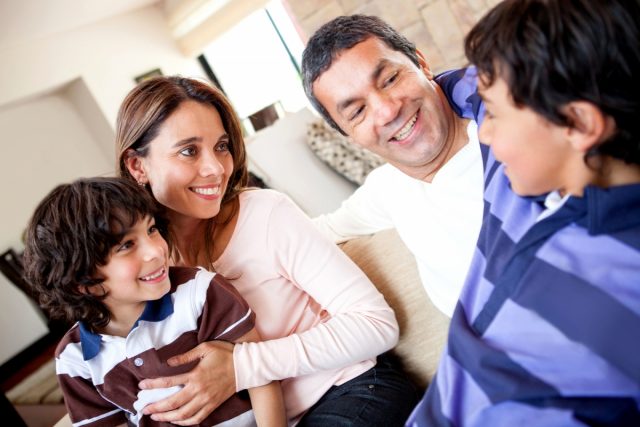 2662 day ago
One of the most vital parenting skills that you need to have is excellent communication; parenting can be a lot more enjoyable and fun when there is a positivity established between child and their parent. It doesn't matter if you are handling a toddler or teenager, what matters is there is good communication between you and your child which is vital to establishing self-esteem and also mutual respect.
With that said, here are some of the basic and most vital principles on how to build an open and positive communication between parents and children:
Make sure that your child knows and feels that you are genuinely involved and interested in their interests and also make it known that you will help them when they need assistance.
There are times when your child needs to speak with you, so if you are engaged in something, stop for a while and take some time to address your child's concerns. It will show them that you care to speak and listen to them, and when your child knows this, it will give them more confidence to approach you when they have problems or other concerns.
Unless there are other people concerned, try your best to hold conversations with your children in private. Remember, the best communication that you can have with your child will only occur when other people are not around since they can better express themselves without worrying about what others will say.
Never embarrass your children and put them on the spot in front of others to witness; this will just lead to embarrassment, resentment, and even hostility which will definitely not result in good communication.
Avoid towering over your child; it is better to physically get down to their level then communicate with them.
There are times when you can get really angry over your child's behavior or over some incident or situation; during these moments, it is best to avoid communication until you calm down and regain your composure. This is necessary because when you are angry, being objective will be difficult which is why it is better to stop, sit down, relax, and then speak with your child .
Avoid being the wipe-out-artist – the time when minor parts of a story are being unraveled by your children and you prevent them from allowing their own theme to develop. An example of this would be: when your child begins to speak or talk about a situation that happened earlier in their school, you might say something like, "I do not like what they did, but you better had not taken part in that." It would just frustrate the child since all they wanted to do was communicate a story with you.
It is sometimes unavoidable that your children approach you when you are extremely tired, but instead of cutting off the communication even before it has begun, you as a parent and adult should make additional effort to be an active listener . Remember that active listening that is genuine is hard work and really difficult when your body and mind are extremely tired. This is the reason why you should at least put more effort into listening to your children speak without turning them away.
Another great way to build open communication with your kids is by taking a break and spending some quality time with your children; go to a park and play with Whistlecopter's toys that will surely have both of you enjoying the moment and each other's company.
You can talk about things, have them address their concerns, or simply ask how their day went while you play and have fun. Communicating while enjoying is one great way to relax and ease the tension that the child has when bringing up their problems or issues with you,  which is why spending more time with your kids doing a variety of activities can help build the connection  between the two of you.