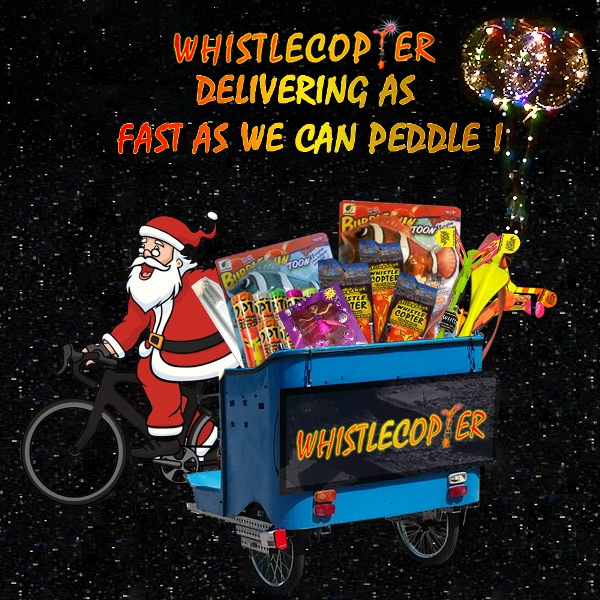 2194 day ago
When we were children, we all enjoyed Christmas and the holidays, but as we get older, these things start to get boring. The excitement for presents decreases and the practices as well as the traditions are repeated annually. Thus Christmas becomes more of a routine holiday. Christmas can also be a stressful season which requires a lot of time for planning and preparing for the big day. Aside from that, a great deal of money is also required to be able to have the traditional Christmas celebration.
If the habitual gift-giving followed by Christmas dinner already sounds boring, then why not try celebrating the season in a fun yet unique way? Since there are always a lot of alternatives for doing things, you can also celebrate this year's Christmas differently. A Christmas celebration should be fun and memorable, which means you are not required to celebrate the ordinary way if this gets dull for you. LIGHT up that day with Whistlecopter's LED BALLOONS!
So with that, here are a couple of unique ways to celebrate this year's Christmas day:
Get Cultural
There are various cultures worldwide and each has different kinds of Christmas celebrations. While some are funny and some are bizarre, each of the celebrations is unique and enthralling. So here's the idea: choose a country everybody in your family will agree on and spend a culturally-themed Christmas. Decorate your home the way people in that country do for Christmas and the New Year then imitate their practices and prepare national dishes; everyone in the family and even your guests will surely remember this unique and enjoyable celebration.
Watch the Christmas Sunrise
One of the best ways to celebrate Christmas Day is by waking up early to see the sunrise. You can sit together with your family with a cup of coffee or hot cocoa in hand while enjoying the view and each other's company as you greet Christmas day. This will definitely be a fun and memorable moment for everyone and since your children will surely get up early for their socks / stockings, why not start the day with an amazing view?
Try Out Some Different Christmas Dishes
When it comes to dishes, what meals do you commonly have for Christmas dinner? A lot of people often include ham, turkey, goose, and numerous sweets on their Christmas menu. If you plan a culturally-themed celebration, how about also getting a good taste of another country's Christmas feasts? Try out these variants: Polish Makowiec (poppy seed roll), Danish aebleskiver (round pancakes), German christstollen (cake with dried fruit and marzipan), or Czech vánoční rybí polévka (Christmas fish soup) — you can browse online for various Christmas dishes from different countries and discover the endless possibilities.
Handcraft the Presents
Handmade gifts are more personal compared to store-bought items that cost a fortune. Instead of shopping for presents, why not craft handmade items that you can perfectly customize for your family and friends? The Internet offers a lot of step-by-step tutorials on how to create jewelry, clothing, picture frames, and a lot more items just by hand.
Aside from presents, you can also make your own decorations to uplift the spirit of Christmas. Put together some Whistlecopter LED BALLOONS and when they light up their will be squeals of laughter! Launch one 150 feet in the air; just attach some monofilament line to the led line and fly it like a kite while it is flashing in the sky. If this will not make your Christmas more exciting nothing will. Or just line your walkway with the LED BALLOONS ! You can also check out WHISTLECOPTER'S VIDEO OF THEIR MOST AMAZING NEW PRODUCT HERE.
Give Christmas to Others
Since a lot of people cannot even afford to make their lives better and comfortable, another great idea is to make the less fortunate feel good this Christmas. You can offer them some food, presents, or other kinds of assistance. After all, it feels great when we help others and you can also consider a lot of different Christmas projects to join.
Go on a Long Family Vacation
Seeing all the shopping malls selling Christmas decorations can make you feel crazy, especially if you want peaceful surroundings so why not escape from the festivities by going on a long vacation? Celebrate the holidays on a sun-soaked beach around the Caribbean or head off to the mountains to ski. This would be a perfect Christmas celebration for the whole family.
Christmas Volunteer
Shelters are often in dire need for volunteers during Christmas, so lending a hand at your local homeless shelter can be another wonderful way to celebrate the holiday and a lot of shelters would be happy to accept families who wish to volunteer.
Visit a Sauna
If you wish to do something completely different for the holidays, then why not take a visit to your local sauna? The Christmas sauna is actually a common tradition in numerous countries such as Estonia and Finland. Families from these countries often enjoy a sauna together before going to church on Christmas Eve.
Head Outdoors and Play
Spending quality time with the family this Christmas is probably one of the best things that everyone can enjoy during the holidays, and to make things even better, why not play with the Whistlecopter toys for a fun-filled Christmas?
WHISTLECOPTER'S:  WHISTLECOPTER is one of the best toys you can play with this holiday season since the WHISTLECOPTER is the only LED Copter with a Patent and has the brightest LED light and can also fly up to 200 feet. Additionally, the WHISTLECOPTER WHISTLES ON THE WAY UP! It features wings with various unique designs to give everyone a different experience. When launched, these toys also look like fireworks, UFO's, airplanes, and shooting stars to make your Christmas more exciting try one of these!
If you want to have more of these types of amazing products for stocking stuffers, you can also check out other Whistlecopter toys to further delight in your unique holiday celebration.