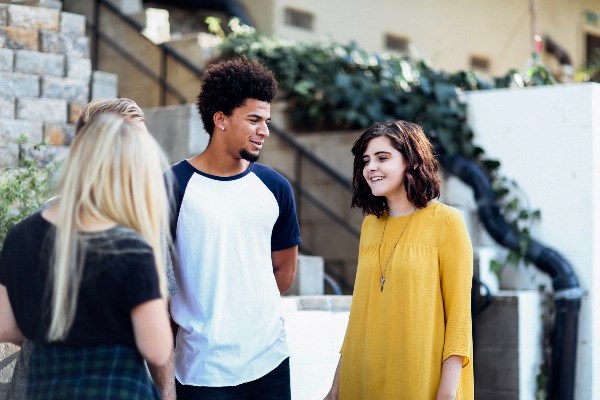 1914 day ago
When most people find out that they're going to be parents, they become extremely happy thinking about having a child in their arms. Usually, it becomes difficult to even imagine that they will eventually grow into adults with their own minds. However, these little ones will eventually grow and it is a natural occurrence that cannot be stopped. One day, they'll ask for a later curfew so they can spend more time with their peers. It's not uncommon for parents to shudder or worry about the idea of having to deal with teens, especially when they remember what they've done at that age.
It is essential to stay connected with your teenagers as they go through their changes as they become their own person. This will establish a healthy and open relationship with your growing sons and daughters. In fact, doing so is actually easier than you may think since it only takes a few steps to strengthen your bond with your teens. Try these tested and proven tips on how to easily bond with them:
Have a Day Off with your Teen
To close the gap between you and your teens, you will need to start a new mode of connecting with them. To effectively make this a great quality time for you and your child, interact with them in a different way: make them feel like you're another close friend instead of a parent. For at least an hour every week, skip preoccupations with work and put your electronic devices away so you and your teens can spend time solely with each other. During this day off, be with them receptively and playfully. Be their companion without showing parenting agendas.
Parents who make time every week to spend with their teens are reported to have a stronger bond with increased affection and mutual understanding. They also experience less conflict, which leads to having extreme lightness of spirit. Have an hour a week with your teens and spend this however they wish, but ensure that no communication device will be involved so you can focus solely on each other.
Open your Doors
Teenagers often have one thing they really focus on – their friendships.  Encourage your teens to invite their friends over to your home from time to time. Let your house be a warm, fun place where they can hang out after school or have a sleepover during the weekends. If you do this, you can see the type of people your children hang out with and you can keep a close watch without making them think that you're annoying or invading their privacy.
Dine Together
Dining together is the best time to connect with your family. Ensure that everyone is there for at least one meal time each day, and make sure that this becomes one of the regular activities at home. If your children's ages vary and being together is difficult, have one-on-one mealtimes with each of them. While dining together, you can catch up and share about each other's experiences. Make them feel comfortable so they can be open to you when it comes to various matters.
Work Together
No one loves doing chores, but these will seem tolerable when someone is helping you. Instead of waiting until the mess gets out of hand, assign your family members different tasks so you can get together and help each other with house chores. This way, accomplishing these tasks will be fun for everyone, and you can talk with your teens in the process.
Just Listen
All in all, teenagers just want parents who are truly interested in things they have to say. During the stage of adolescence, something small may seem like a big deal for your children. Whether they're struggling with peers, bullies, academics, or rejection, you definitely want to be the first person they approach when things get tough. Welcome and encourage your teens to approach you anytime they need to talk about something, and make sure that you won't judge them.
Go Outdoors and Get Active
We all know that it was easier to encourage your children to play outdoors when they were little. However, teens usually think that activities are better with a friend since it's a chance for them to hang out. With that, you can invite your teens' friends over and let everyone play with the Whistlecopter toys.
The Whistlecopter is individually packed with its own exclusive Viper Launcher and 7-inch red rubber band which allows you to easily launch the toy 200-250 feet. It also comes with an instruction card that has complete details on how you should use the toy.  It features Super Glow Wings that have unique designs and emits brilliant lights. The Whistlecopter has the Trademark and Patent to ensure you that it is durable and made from high-quality materials. It is the only LED Copter that whistles on the way up! This is a great way to bond with your teens and have more fun connecting with each other.
The Whistlecopter LED Balloon is now on sale and you can avail ten of these for only $20 which is half the price. Each of the ten reusable LED balloons has LED lines that are 9 feet long; plus, you can also cut these LED lines if necessary. Additionally, these have three light settings as well as brand. The LED Balloons are great for all types of events – weddings, Halloween, birthday parties, and more. Lastly, it ca fly like a kite and can reach a maximum height of 200 feet in the air. Most importantly, these balloons are reusable if you need it for other occasions in the future.