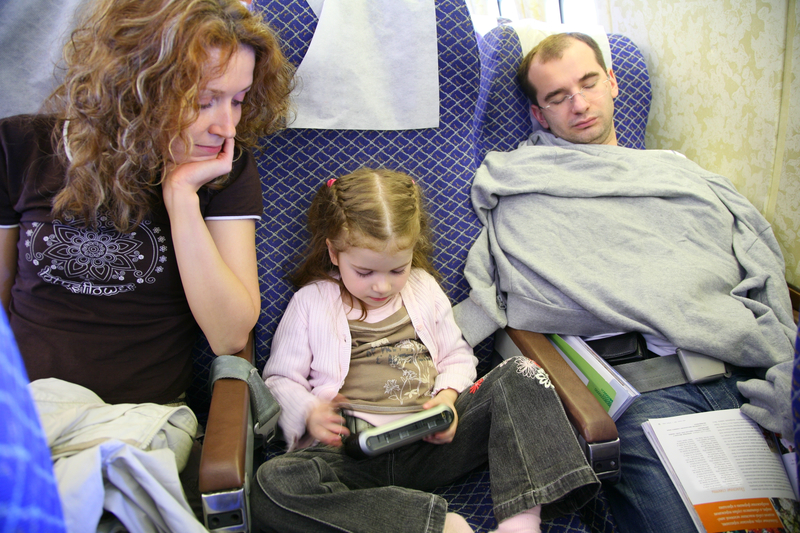 2018 day ago
Whether you will be traveling on the road or flying up in the sky, there will be some inconveniences that you may face especially when you bring your children along on your trip. Even if it's your first or fifth time traveling with your little ones, the experience can be difficult and it can also have many challenges. While there are things that cannot be changed such as the space on the plane or the gas prices, there are a few problems that can be solved to make your trip less stressful. When traveling with children, remember they can easily get bored on the way, but with enough preparation, you can reduce and even prevent the hassles you may experience during the trip.
Here are some practical tips to help you when traveling with children:                 
Tell them about the journey
If this is your child's first time travelling, talk to them and let them have information and ideas on various things such as your destination, the things that will happen, and safety tips when traveling. Explain the different safety precautions when traveling such as fastening one's seat belts; also tell them the importance of following safety measures during travel. Most children look forward to trips and adventures, and one thing you can do to keep them excited is to encourage how exciting travelling will be so everyone will have fun.
Make time for long and short breaks
If you will be traveling by car, you will need frequent stopovers – these are extremely important especially if your child is a baby or a toddler. At this time you can feed your child, change diapers, and have a stretch. It is also your chance to grab a bite or two while you are stopped. Doing this will reduce the stress experienced during travel, plus it will also let children use their extra energy pent up during the trip this will also aide them from being restless during the trip. During the break, why not stop by a park or a place to have fun and play with the Whistlecopter toys with your children? With these awesome toys including the Alien Rocket Copter, LED Copter, Bubble Guns, Fidget Spinner, and the Original Copter, the whole family will definitely have fun even during trip stopovers.
Keep your children comfortable
Uncomfortable and impractical clothing can make anyone irritable and unhappy so when traveling with your children, make sure to let them wear comfortable clothes. Let your children use layers of soft clothing that can be worn or taken off depending on the weather or the plane's air conditioning settings. Another way to keep your children comfortable is to also take their favorite pillow, blanket, and stuffed toys on the trip since these are some of the items that remind children of home; the little ones love their own belongings so this will make them feel better and reduce their stress of being in a new environment.
Avoid over packing
When packing, do not bring the whole kitchen sink as they say that you have at home and keep in mind that a lot of things can be purchased at the place you're heading off to or along the way. Although you cannot purchase the same brands, you will definitely be able to find an alternative. However, there will be some items that can be difficult to search for such as organic diapers, so if you are taking an infant with you during the trip, try out different diaper brands to see if your child will have any allergic reactions or irritations. For clothes, pack each day's outfit by sets and store these in Ziploc bags; these bags are convenient since you can also reuse these to store used clothes. For less baggage, consider bringing fewer clothes and doing laundry while away to also keep your items fresh and clean.
Use the time to get creative
No matter how much you love your children, they can get quite annoying when they are bored and may start whining about having nothing to do. To avoid this when traveling, keep them entertained by bringing a notebook, pencils, a music player, children's headphones, a tablet, and a few toys. Load your gadgets with games, songs, and other free apps that will entertain them during the trip. Since children are easy to distract, 10-minute cartoons with catchy songs are already enough to prevent them from throwing a tantrum. For the toys, the best one you can give your children while traveling is the Fidget Spinner from Whistlecopter. This hand spinner is great for reducing stress, plus it emits blue, green, and red LED lights when you switch on the toy's button.
By following some of these tips, traveling with your children will be stress-free and with the Whistlecopter toys, everything will be more fun. Every toy from the Whistlecopter is not only affordable, but these are also safe, durable, and non-toxic for your little ones to play with.